2007 Tolliver Family Reunion
.
2007 TOLLIVER FAMILY REUNION REMEMBERED
The 2007 Tolliver Family Reunion was held June 22-23, 2007 in Morehead, KY at the Carl D. Perkins Community Center. I think it was the best Reunion yet. People are getting to know one another. It was really a fun time. We were greeted at the door by an unusual sign. We later found that John Nelson Tolliver from Malta, OH was the creative one.
Friday afternoon was an informal time with persons setting up tables and chairs and posting family information. There were about 12 science fair boards with old pictures and family trees from the lines of John b. 1760, Jesse b. 1756, John R. b. 1839 VA, Wade Hampton b. 1815 NC, Jane b. 1830 VA, Charles b. 1765 posted, as well as possible descendants of Moses b. 1754. After dinner together at the Ponderosa, we went back to the Carl D. Perkins Community Center for entertainment and fellowship. We were entertained by gospel singer, John Nelson Tolliver from Malta, OH and Tony Pence from Morehead, KY. Lemonade and cookies were provided. Registration started again on Saturday morning at 9:00. Ken and Gail Whiteaker from Georgia, and their daughters, Dawn and Roy Robinson of Georgia, and LeaAnn and Dean Lyon of Alabama were in charge of registration and taking pictures of each family unit.At 9:00 Emma Lee welcomed everyone and talked about the John Toliver Cemetery restoration that has taken place this year. As she spoke an elderly man struggled to climb the stairs to get to the microphone. Lo and behold, it was John Toliver b. 1760. He was so appreciative of all the work that has been done. A few people were slightly relieved when we found out that it was really Dr. J. D. Reeder in costume.
Later Emma Lee divided the group into smaller family groups, such as the descendants of Lytte Tolliver. The chairman was to make sure everyone was introduced and have the group think of something about their family that they could share in the afternoon session.After lunch, we were treated to some gospel music by Dreama Taylor. She also led us in singing "Happy Birthday" to everyone, though most did not admit to having a birthday since we were there last year.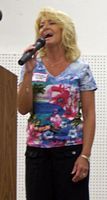 The different family groups from the morning session reported to the large group. This picture shows Sandy Schlairet and Benny Toliver who descend from Jacob Finley and Enoch B. Tolliver, respectively, sharing a story.
Betty Tolliver from McDonough, GA was recognized as the eldest matriarch.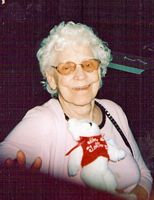 Kinsey Smallwood, holding Spencer, the youngest member of the clan.
Emma Lee Tolliver recognized the second youngest, Addison Gilbert, pictured with his mother, Sarah, and brother Jason.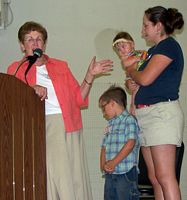 The longest distance was traveled by Jennifer and Benny Tolliver from Arkansas.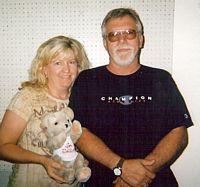 The door prize was won by Mildred Evans (Mrs. Lester).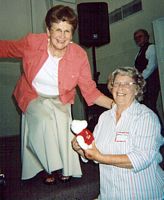 Carla Eberwein was in charge of the Silent Auction. Here she is telling who is to receive the photo on the left with the picture of the wife of Lytte Tolliver.
We were entertained by John and Guy Evans, Jr., descendants of Cate Tolliver who was killed in the Tolliver-Martin Feud.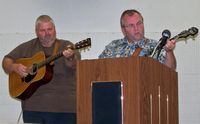 Joyce Black, a cousin of John and Guy did some dancing along with the music.

Saturday night was special. The Morehead Theatre Guild presented "Feud Voices," a Readers' Theatre dramatization of incidents in the Rowan County War – 1884-1887, written by Dr. J. D. Reeder. It was presented in the newly remodeled "Old Courthouse" that is now the Rowan County Arts Center Auditorium. The back of the program included the following written by Dr. J. D. Reeder.
About the Rowan County War…
In the years following the American Civil War, at least 13 family feuds sprang up in eastern Kentucky. Most of them were based in settling old grudges, often political in nature, and satisfying the need to avenge old insults or other wrongs. The feud era was worse between 1880 and 1910 and it was during that time that Morehead and Rowan County made headlines in newspapers all over the United States and in other countries for the series of murders and other violence that became known as the Rowan County War or the Tolliver-Martin Feud. Although it is not now as well-known as the celebrated Hatfield-McCoy Feud, in the period from 1884-1887 it was familiar to everyone as the most vicious of Kentucky's private vendettas, resulting in at least 20 deaths and the wounding of almost that many more.
Several members of the Tolliver family were killed during that time, including Craig Tolliver and his brother Floyd from Morgan County, as well as their cousins John Reed "Budd" Tolliver and his brother Jacob Finley "Jay" Tolliver, Jr. from Elliott County, and yet another cousin, Wylie VanBuren Tolliver from Rowan County. Still others were wounded Some recovered and left off the violent way of life for good, but others would take up their guns again. In the years that followed, the remaining men from the Elliott County branch of the family in particular died in violent acts that the Tolliver family has always believed were related to the feud.
Most of the newspaper accounts of the time tend to portray the Tollivers as being at fault on all sides, and that the Rowan County War had few if any heroes. It was a dangerous and brutal time, when men regularly took the law into their own hands to settle their differences. Happily, that time is past, and the people of Morehead and Rowan County now look forward to the annual summer gathering of the Tolliver family as it celebrates its long and colorful history.
This picture shows Dr. Reeder introducing the program of the evening.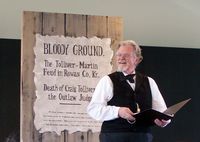 The Morehead Theater Guild ready to perform.

Everyone agreed that J. D. had done a fantastic job writing the drama and the the Theatre Guild was superb. We are hoping to hear more from them next year.